Оплата картой давно заменила наличные, ведь это удобно, функционально и безопасно. Но мир электроники продолжает развиваться: теперь не нужно носить с собой пластиковые карточки, ведь все платежи можно совершать с помощью телефона. Для этого используется технология Near Field Communication. В статье будет описана настройка NFC на телефоне OPPO со всеми подробностями и нюансами.
What is NFC and why is it needed?
NFC представляет собой микрочип, который встраивается под корпус смартфона, планшета, смарт-часов или фитнес-браслета. Модуль передает данные на очень близком расстоянии, не превышающем 10 сантиметров. Работа осуществляется за счет радиочастот.
Прежде всего, НФС нужно для совершения бесконтактной оплаты. Достаточно поднести телефон к терминалу, который поддерживает PayWawe (PayPass), и деньги сразу спишутся с привязанной карты на Google Pay.
You can send small materials, such as contacts, to other devices. This requires the Android Beam option. Tagging is also supported. A specific action is assigned, and special stickers perform it when a device with NFC is brought close to them.
List of OPPO smartphones with NFC
Below is a complete list of Oppo phones with NFC chip. The list will be updated as new models are released. The module is mostly received by mid-range and flagship devices.
A53, A52, A72 5G, A72, A91, A5 2020, A9 2020, A92s, A9x, A9, A7n, A7n, A53 (2015);
Reno5 5G, Reno5 Pro, Reno5 Lite;
Reno4 Lite, Reno4 Z 5G, Reno4 Pro, Reno4 Pro 5G, Reno4 5G;
Reno3, Reno3 Pro+, Reno3 Pro 5G, Reno3 Youth, Reno3 5G;
Reno2, Reno2 Z;
Reno, Reno Z, Reno A, Reno 5G, Reno 10x zoom;
Find X2, Find X2 Neo, Find X2 Lite, Find X2 Pro, Find 5, Find X3 Pro, Find 7, Find 7a;
RX17 Pro;
Ace2, Reno Ace;
K7 5G, K5;
R15 Pro, R9s Plus;
N1, N3;
U3.
How to enable NFC and set up GPay on Oppo
Если у вас смартфон OPPO с NFC, вы можете совершать бесконтактные платежи. Для этого понадобится официальное приложение Гугл Пэй. Ни в коем случае не используйте подобные программы от неизвестных разработчиков. Это грозит похищением личной информации и средств.
Detecting NFC on your smartphone
First, you need to find out if your Oppo phone has NFC. There are several ways to find out:
Study the technical specifications of the model. The NFS icon is always located on the box of the phone.
Also, the contactless module is specified in the mobile device parameters on the store's or manufacturer's website.
Найти пункт в настройках. Для этого заходим в меню настроек и открываем вкладку «Другие беспроводные соединения». В ней будет соответствующий пункт при наличии бесконтактного модуля в смартфоне.
Check out our list of models above.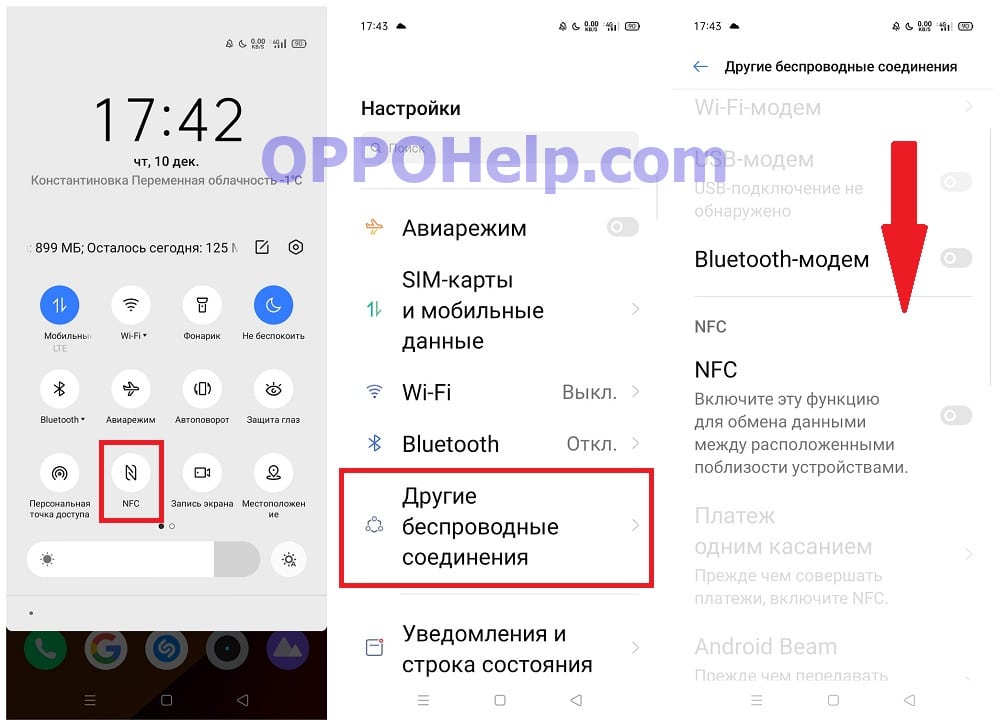 A payment card must also support contactless payment. Almost all Visa and MasterCard cards issued in recent years are equipped with this feature. If your card doesn't have the badge, contact your bank.
Аналогичная ситуация с терминалом. Подойдут только приборы, поддерживающие технологию PayPass или PayWawe.
Linking a bank card
Теперь выясним, как на Oppo привязать карту. Запускаем Google Pay после скачивания и установки. На стартовой странице нажимаем «Начать». Потом кликаем по голубой кнопке «Добавить карту». Выбираем: кредитная или дебетовая карта, подарочная, транспортная или карта постоянного клиента. Фотографируем карточку, либо вводим данные вручную. При выборе второго варианта нужно указать:
card number, expiration date, and a secret three-digit code on the back;
Owner's name;
payment address;
phone number.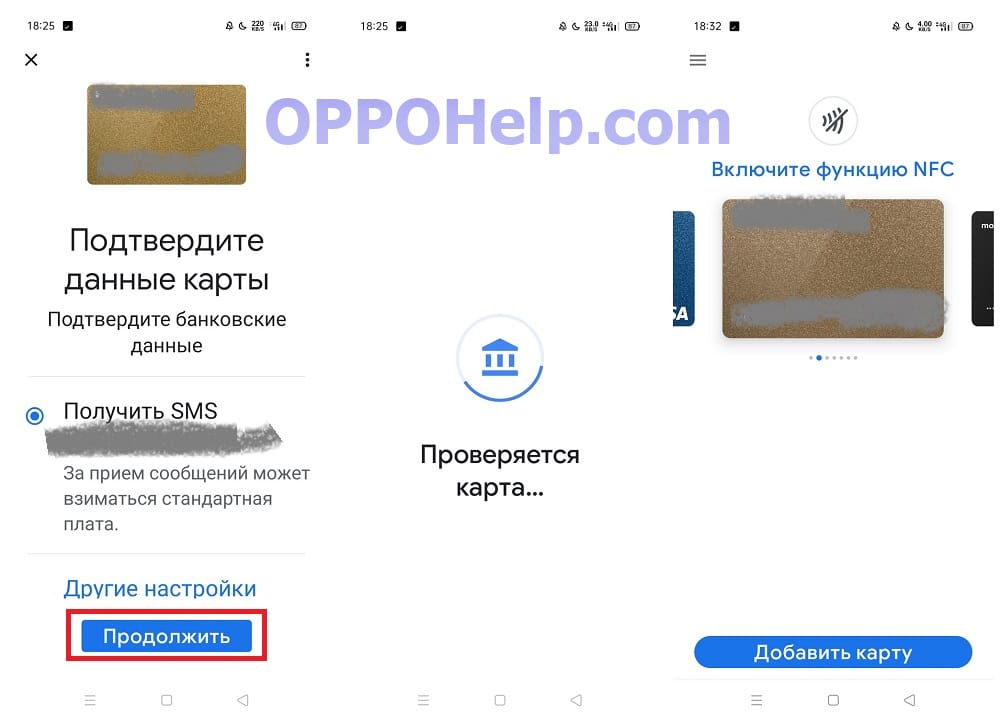 To confirm, an SMS with a verification code will be sent to the specified number, or you will be contacted by a bank employee. When the card is successfully added, it will appear on the main page of the application.
Turning on the NFC module
Now you need to activate NFC on your phone. As soon as you open Google Pay, the app prompts you to turn on NFC. You can also do this through the curtain by clicking on the appropriate icon. Also, don't forget to give all the permissions requested.
Payment
Многие не знают, как расплачиваться телефоном Оппо и где находится датчик. Все очень просто: модуль расположен под корпусом смартфона. Для совершения платежа нужно поднести телефон к терминалу задней стороной. Открывать приложение не требуется, если указана основная карта. Хотите расплатиться другой карточкой – зайдите в Гугл Пэй и выберите ее.
Держать смартфон от терминала нужно на расстоянии около 10 сантиметров. Когда деньги спишутся, раздастся звуковой сигнал и появится сообщение. Вводить pin-код не нужно. Подробная информация о платеже (место, дата, время) будет в Google Pay, во вкладке «Действия».
We found out how to use NFC on your smartphone. Next, let's look at other features of the module.
Wireless transmission of information
С помощью НФС на ОППО можно обмениваться различными материалами, по аналогии с Bluetooth и Wi-Fi. Но скорость передачи низкая, поэтому такой способ подойдет для передачи или получения небольших файлов, например, контактов. Функция называется Android Beam. Для ее включения нужно:
Go to "Other wireless connections" and activate NFC.
Under "Android Beam" move the slider to the working state. This will enable data transfer via NFC.
To transfer information, put your phone back to the other device and follow the prompts on the screen.
Tags with actions
Еще одна интересная фишка – использование специальных NFC-меток, выполняющих определенное действие через бесконтактный модуль. Вы можете, например, разместить метку на прикроватной тумбочке и назначить включение беззвучного режима. Для срабатывания достаточно поднести смартфон к этому стикеру. Конкретные сценарии назначаются в приложении NFC Tools.
FAQ
What is Android Beam?
Where can I buy NFC tags?
Can I use NFS to pay on public transport?
Google Pay on Oppo doesn't work, what should I do?
Now you know how to set up NFC on your OPPO phone. The procedure is fast and simple, you only need to follow the step-by-step instructions. If something is not clear - write in the comments.
Which payment method do you prefer?
Smartphone with NFC
62.35%